About Us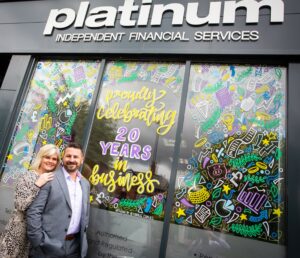 At Platinum IFS, our expert advisers have 20 years experience in providing friendly and impartial financial advice.
We pride ourselves on our friendly and approachable nature, committed to putting clients at the heart of everything we do and developing long-term relationships with them. We ensure we understand the individual needs of each client so we can implement a tailored financial plan to address those needs.
We want to ensure that we continue to move forward and to work hard to aspire to be the best we can be now and in the future. It is important to us that Platinum and the people within it take time to continue to develop personally and professionally and that our clients will always remain at the centre of everything we do. This is reflected in our company values and weaves through everything we do.
Our people are very important to us, as is making certain we provide you with the best possible professional service. Get in touch to find out more:
Accreditations
We are an independently owned financial planning firm in Sale offering face-to-face financial advice to individuals, their families and business owners across the country.
Our advisers are highly qualified but more importantly offer a wealth of experience and technical knowledge on all financial matters and specialist areas. However complex your situation may appear, we will certainly be able to help you make the most successful decisions.
Financial Conduct Authority
The Financial Conduct Authority is the conduct regulator for financial services firms. Platinum IFS being one of these. www.fca.org.uk
Chartered Financial Planners
Chartered Financial Planner. The CII's title Chartered Financial Planner is a widely accepted 'gold standard' qualification for professional financial planners and financial advisers in the United Kingdom.
What Our Customers Say
'We have used Platinum for many years now to help us with mortgages, pensions and more recently investments. The whole team are really friendly, helpful and knowledgeable and always happy to explain things in simple terms so you can be confident in your decisions. I'd highly recommend using their services'

Tony Turner

'I was referred to Platinum IFS by my partner as I was in need of some advice on how best to deal with multiple pensions I had acquired over the years. The process was made very simple and Martin even found a personal pension I had lost track of years ago. Everything was explained in plain English so I felt confident in the advice being given, I get regular newsletter and annual reviews to make sure the pension still meets my needs. I would not hesitate to recommend Martin and his team to my family and friends.'

Janet McIntosh

'We've used this practice for nearly 20 years, and i couldn't recommend them highly enough. your portfolio is kept under constant management and review, and appraisals are comprehensive thus enabling informed decisions in tandem with Martin & Jen's team to be made.'

Sean Gilbert

Called in to get a mortgage as a first time house buyer… just to compare quotes and rates initially. Got the best offer from platinum, Nick and Eeshan helped me throughout the process.
All in all, great company with good contacts and helpful staff.
5 stars !!

Karan Puri

Platinum helped me understand what to do with my pension. They dealt with me in a very comfortable manner and kept me updated all along the way. I wouldn't hesitate to recommend them to my friends and family.

Aprajita Kajaria

What a great service!! Dealt with my wife's pension transfer. We will be moving our other investments to them now. Very trustworthy and knowledgeable. Head and shoulders above other IFAs we have dealt with. Will recommend our family and friends to them.

Mark McGuire